&nbsp &nbspSearch this Site
SECTION FIVE
Sensors and Image Datasets
Click the Bubbles Above or the Double Arrows () to Explore this Section

&nbsp&nbspClick image to expand

VIDEO: NASA's Vantage Point to View Earth
We will now build from the Characteristics of Imagery section, advancing your ability to choose the right remote sensing tools for different questions & applications—especially regarding climate science.

Specifically, this section will overview types of sensors and highlight commonly used datasets provided by remote sensing.

Click the Bubbles Above or the Double Arrows () to Explore this Principle
B. Active and Passive Sensors

&nbsp&nbspClick image to expand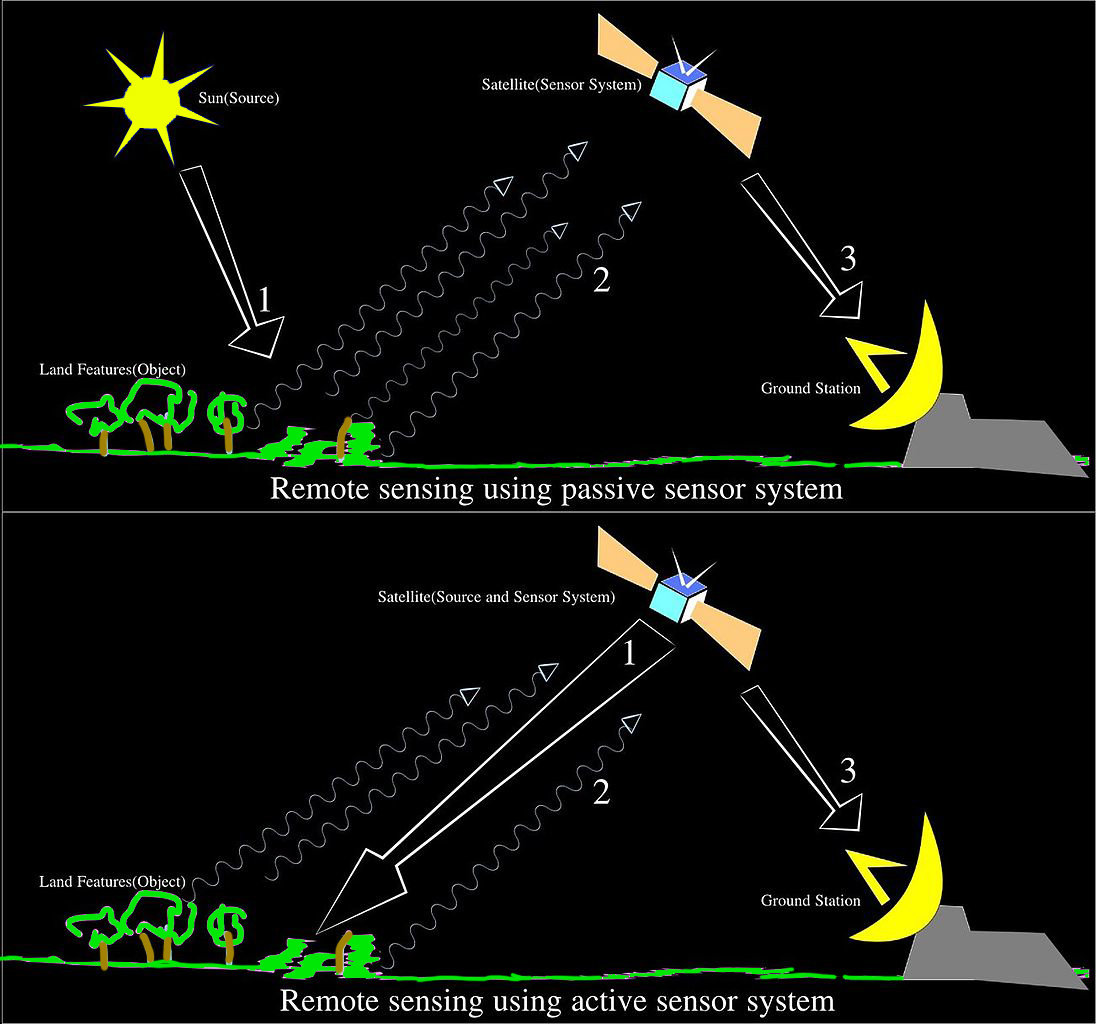 Credit: Arkarjun 2013 Nov 20 [CC BY-SA 3.0] Accessed 2019 Jan 1 https://upload.wikimedia.org/wikipedia/commons/6/61/
Remote_Sensing_Illustration.jpg

Active sensors create their own electromagnetic energy to "light up" their field of view, and then detect the reflected energy. Think of using a flashlight in the dark woods. You control a beam of light, which reflects off your surroundings and is detected by your eyes. Active systems can operate day or night but require a large amount of energy.

Many active sensors use ranging—timing the return signal (termed backscatter) to create a 3D terrain map, called a digital elevation model (DEM).

Passive sensors detect electromagnetic energy that originates from another source—usually the sun. For example, a camera without a flash is a passive sensor—when using a flash a camera becomes an active sensor.

Click the Bubbles Above or the Double Arrows () to Explore this Principle
C. Active Radar (Radio Detection and Ranging)
Radar was invented during the Second World War, to detect the distance & direction of enemy aircraft and ships. Like most military remote sensing technology, radar has been adapted to civilian and scientific use. Radar mounted on an aircraft or satellite can be directed downward—timing the backscattered signal from the ground creates a terrain map. For example, NASA's SRTM (Shuttle Radar Topography Mission) in 2000 gave us a global terrain map, freely available to the public at 30 meter resolution.

These "digital elevation models" (DEMs) are the most widely used product from active sensors—used for terrain display/analysis and also for orthorectification of imagery. Shorter wavelengths allow better spatial resolution but less vegetation & weather penetration.

Revisiting the Electromagnetic Spectrum

&nbsp&nbspClick image to expand
Credit: UC Regents 2002. Accessed 2019 Jan 1. http://ds9.ssl.berkeley.edu/LWS_GEMS/2/espec.htm

Radar uses the short-wavelength radio waves, called microwaves. The terminology can be confusing. Microwaves are part of the "radio" region of the EMS, as the acronym "radar" suggests—common usage of the terms sometimes suggests radio and microwaves are altogether different. Unlike medium- & long-wave radio, microwaves can be pointed in a specific direction as a narrow beam. Longer-wave radio can travel around hills and obstacles, while microwave transmission is limited to line-of-site.


&nbsp&nbspClick image to expand
Synthetic Aperature Radar (SAR) image of Death Valley, CA, from 1994 Space Shuttle flights. This penetrating radar also revealed ancient river channels in Sahara Desert, indicating past climate change, was well as lost archeological sites. See url for image & sensor details:
https://photojournal.jpl.nasa.gov/catalog/PIA01349. Credit: NASA JPL 1999 Sept 27

&nbsp&nbspClick image to expand
Microwave bands shown on right. Random alphabetical names were used by the British to maintain secrecy, while radar technology was developed during WWII. Credit: Kaab et al. 2014
Although radar imagery looks similar to a black and white photograph, the information it contains is quite different. Microwave backscatter depicts surface roughness and is influenced by the surface's orientation, conductance (and thus moisture content), and the wavelength band used (Aronoff & Petrie 2005).

The earth reflects/emits much less intensely in microwaves, and active sensors illuminate what would otherwise be a dim signal (or coarse spatial resolution, needed to capture more energy per area). Passive microwave sensors are used, however—useful for soil moisture and freeze-thaw cycles for climate studies.

Satellite radar provides repeat coverage, allowing for change detection over time. Beyond range & elevation measurements, signal processing of radar polarization and phase (termed radar interferometry) provide a wealth of information. Visit the hyperlinks below for videos illustrating sensor applications.

Elevation change
Sea level rise
Land subsidence (from drought & aquifer extraction)


Ice sheet, glacier, and sea-ice thickness change

Geology, volcanology, hydrology.

Ocean floor topography
Watch first two minutes of this video. Ninety percent of the ocean floor was unmapped until recently.
Movement (velocity & direction)

Ocean wave height & wavelength also reveal wind speed, direction, and surface ocean currents

Sea ice movement (navigation)
Surface roughness
Emergency response for oil spills and flooding (both create comparatively smoother surfaces)

Geology & hydrology applications

Soil Moisture
Active radar vs passive radiometer
Timing of freeze & thaw cycles
Climate indicators (e.g. average surface temperature & precipitation)


On a side note, numerous everyday activities depend on microwave energy. All sorts of communications use microwave frequencies—cell phones, Wi-Fi Internet access, and satellite TV. Most long distance phone calls are relayed via microwave to communication satellites, and data transmission to/from satellites (e.g. transmitting imagery) mostly occurs in microwave bands. Microwave ovens use 2.45 GHz frequency (12 cm wavelength) to excite water molecules and heat food.
Click the Bubbles Above or the Double Arrows () to Explore this Principle
D. Lidar (Light Detection and Ranging)

&nbsp&nbspClick image to expand
VIDEO: Cool Ways of Studying the Cryosphere


&nbsp&nbspClick image to expand
Credits: NASA Earth Observatory/Joshua Stevens
Lidar systems (active) create laser pulses of visible or infrared light to map both ground/water elevation and vegetation canopy height/density. Formerly restricted to aircraft, lidar provided better resolution compared to radar but piecemeal coverage. Recent, improved satellite-based lidar will offer global, repeated coverage as of 2019.
Lidar is a quickly growing technology; the application and availability of lidar datasets related to climate science (e.g. terrain; biomass) and ecosystem structure (i.e. vegetation height & density) is growing rapidly. Lidar units can be mounted on drones for very high resolution DEMs—all lidar datasets require large file storage.

Active forest management and forest clearing/conversion are often lumped together in public perception. Yet forest management and forestland clearing (e.g. conversion to agriculture, common today in tropical forests) have very different impacts in regards to carbon cycling and climate change. Sustainable forest management ensures forest regrowth after harvest. Watch the GEDI video below and answer this question: How would converting forest to agriculture or developed areas differ, in regards to atmospheric carbon?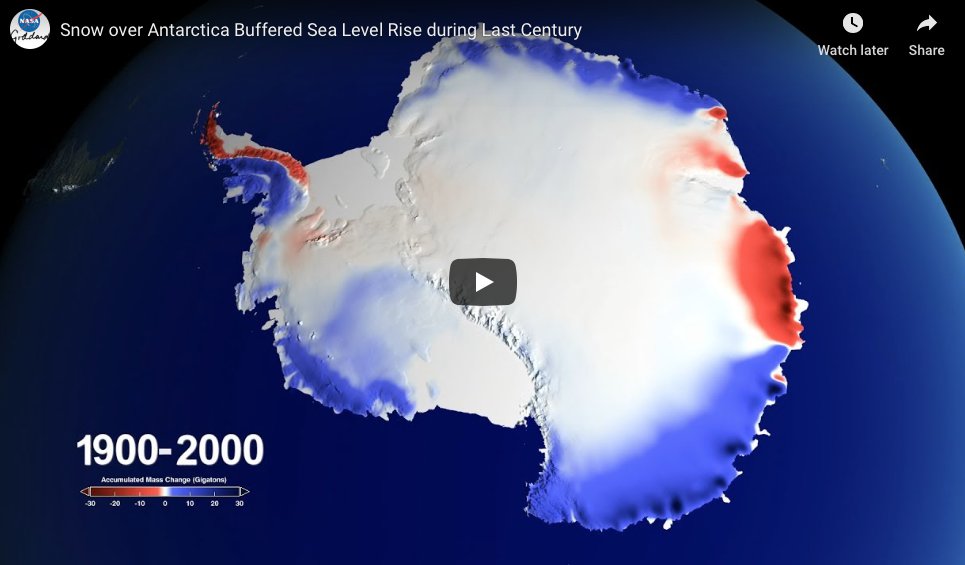 VIDEO: Snow over Antarctica Buffered Sea Level Rise during Last Century

VIDEO: GEDI, NASA's Laser Mission to Measure Trees
Click the Bubbles Above or the Double Arrows () to Explore this Principle
E. Multispectral Scanners (Passive)
Multispectral scanners record several visible & infrared wavelengths. Most of the image analysis activities at the end of this course use multispectral data—the imagery is well suited for climate and natural resources studies, image analysis is more straight forward compared to radar & Lidar image processing, and plenty of multispectral imagery is free for public download.
Website: Click the image above to visit this MODIS website that shows five true color images of the collapse of the Antarctic Larsen B ice shelf of January, February, and March 2002, recorded by NASA's MODIS satellite sensor (coarse resolution, multispectral).
Click the Bubbles Above or the Double Arrows () to Explore this Principle
F. Coarse Resolution, Multispectral Sensors (Passive)
&nbsp&nbspExtra Learning
(Click to Learn More)
A spatial resolution of over ~250 meters is considered low-resolution for earth observation satellites. Geostationary satellites (e.g. weather forecast) use high orbits (~36,000 km) in sync with the rotation of the earth and always view the same wide area with continuous coverage with ~1 km pixel resolution.

Course resolution sensors typically have wide imaging swaths and good temporal resolution—frequent repeat images of the same area—for studying continental & regional patterns. The two identical MODIS sensors on NASA's Terra and Aqua satellites have low spatial resolution (250 – 1,000 m) and 2,330 km imaging swaths, providing 1-2 day repeat coverage in a fairly large number of 36 narrow spectral bands (on next page, compare MODIS spectral resolution with other sensors). MODIS is also used for rapid wildland fire detection & response.
Click the Bubbles Above or the Double Arrows () to Explore this Principle
G. Medium Resolution, Multispectral Sensors (Passive)
Landsat satellites have the optimal ground resolution and spectral bands to efficiently track land use and to document land change due to climate change, urbanization, drought, wildfire, biomass changes (carbon assessments), and a host of other natural and human-caused changes.
U.S. Geological Survey (USGS)

&nbsp&nbspClick image to expand
Credit: NASA GSFC. L. Rocchio and J. Barsi
In 1972, NASA's Landsat 1 marked the first in a legacy of medium resolution satellites, revolutionizing our ability to perform digital image analysis for landscape-scale studies.

Several medium resolution (~5 to 250 meters) earth observing satellites have been launched since. We will focus on free, publicly available datasets, of note are:
NASA's continuing Landsat missions (Landsat 9 is due for launch in 2020). Landsat is highlighted later.
European Space Agency's (ESA) "Copernicus" earth observing satellite program. The Sentinel-2 satellites have similar resolution and spectral bands to Landsat. Copernicus is highlighted later.
ASTER sensor (Advanced Spaceborne Thermal Emission and Reflection Radiometer). A Japanese sensor on NASA's Terra satellite. This "on-demand" instrument only captures imagery on request; data already captured can be freely downloaded.

&nbsp&nbspSensor Highlight: Landsat
(1972-Present)

&nbsp&nbspSensor Highlight: Sentinel Satellites and Copernicus Program